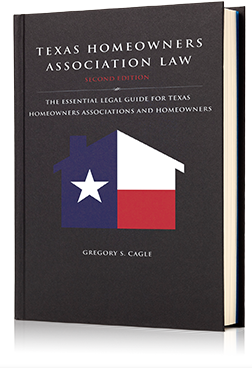 Texas Homeowners Association Law is an essential guidebook on all Texas and Federal laws governing the administration and operation of Texas Homeowners Associations and is the only comprehensive legal reference manual that is written specifically for directors, officers and homeowners in Texas Homeowners Associations.
Organized by topic and written in plain English, Texas Homeowners Association Law provides a straightforward explanation of the rights, duties, and responsibilities of Texas Homeowners Associations and homeowners, and the answers to the most common questions that arise in association-governed communities in Texas, including:
Rights and Duties of Texas Homeowners

Creation and Scope of Homeowners Associations' Authority and Powers

Procedural Requirements for Board and Membership Meetings

Directors' and Officers' Duty of Care

Assessment Collection and Assessment Lien Foreclosure

Architectural Review of Proposed Construction Projects

Restrictive Covenant Interpretation and Enforcement

Amendment of Governing Documents
Revised and updated, the Third Edition of Texas Homeowners Association Law incorporates all of the pertinent new laws enacted through the 2015 Texas legislative session and includes more than twenty-five sample forms for use by Texas Homeowners Associations and homeowners.
In addition, with more than 2,500 annotations and citations to Texas and Federal statutes and appellate court decisions, as well as a table of authorities and subject index to assist readers in quickly identifying applicable topics by key words or subject matter, Texas Homeowners Association Law is also an indispensable tool for property managers, realtors, and attorneys who work with association-governed communities in Texas.
---
Introducing
TEXAS HOA MANAGER
The first and only legal compliance software for Texas HOAs.
TEXAS HOA MANAGER is a legal compliance software solution developed specifically for Texas Homeowners Associations that provides step-by-step instructions for performing all day-to-day management operations in compliance with Texas law, access to interactive forms that conform to Texas law (and that are updated as laws change), access to an online version of the Texas Homeowners Association Law book, and much, much more.  For more information you can watch the video below or go to www.TexasHOAManager.com.
"I became a board member of our HOA and put this book to use immediately. There is so much to learn, but this book is easily understood by anyone with an 8th grade reading level. Very well written and separates condo HOAs from regular HOAs. It is probably the best investment I could ever make in my new role. It is an absolute "must" for people wanting to know and understand HOA laws."
"It is like the bible for wandering through the maze of complex legal issues concerning operation of a POA."
"Excellent guide for all HOA Boards. Absolute necessity for rural HOA"s in unincorporated areas."
"As a Board Member, it makes understanding a multitude of issues easy. Helps to intelligently explain some complex matters to members and other homeowners in a easily understood manner, giving examples in a straight forward way making them less confusing."
"It is easy to read and has a lot of information. Must for any board member or if you live in an association. You get to know your rights."
"This is a great book. I recommend it highly for any HOA Board member or any member of a HOA who want to understand HOA Law. If you have trouble wading through the Law, you need this book. It makes the Law understandable."
"Very concise and extremely inclusive. Great for homeowners' association protocol. This book has been read repeatedly, and is exceptional. A must have!"
"No Texas HOA Board Member should be without a copy of this book. I made my first purchase and was so pleased with the content, I purchased a second copy for our President."
"This book is extremely helpful and well worth the money. I would recommend every homeowner association in Texas to keep it on file."